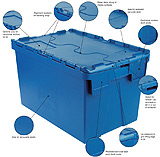 CLICK TO ENLARGE

Karraway introduces its range of Attached Lid Containers – strong, reliable and reusable containers for a wide variety of uses. Designed by Rehrig Pacific, the world's largest manufacturers of returnable plastic containers, the range comes with a superb pedigree.

Designed to maximise loading capacity and for optimum nesting efficiency, the range is produced in tough, durable polypropylene for a long working life.

Various identification options and security features allow complete flexibility and rapid integration with almost any operation.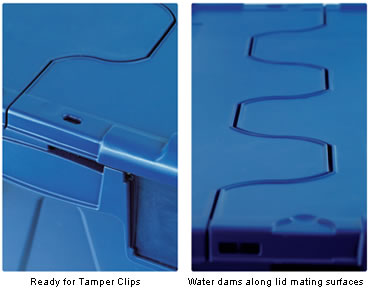 KEY FEATURES:
Tamper resistant hinge - Prevents container being forced open.


Reinforced corner on lid - Prevents tampering and breakage.


Contoured ergonomic handle design - Protects users and enhances efficiency.


Sloping lid surface with water dams - Channels water away from lid mating line.


Pin-dot texture on lid - Surface is easily washable.


Tamper evident - Compatible with Tamper Clips and Loop Seals.


Hinge towers protrude from lids - Ensure stability when stacking.
600 x 400 Range Available in three height variations:


SU01 600 x 400 x 310mm height
Internal dimensions
517 x 349 x 283.5mm
Stacking height:
296mm
Nested stack increment:
108mm
SU02 600 x 400 x 365mm height
Internal dimensions:
512 x 345 x 338.5mm
Stacking height:
351mm
Nested stack increment:
108mm
SU03 600 x 400 x 400mm height
Internal dimensions:
508 x 343 x 373.5mm
Stacking height:
386mm
Nested stack increment:
108mm